With COVID-19 pandemic present for the greater part of our project's life so far, traveling across Europe has not been an easy task for nearly a year. Fortunately, when the measures relaxed, visits to the German, Belgian and Italian pilot farms took place in order to discuss the proposed interventions and their technical details in more depth.
The Greek team, consisting of AUA (AGRICULTURAL UNIVERSITY OF ATHENS), CERTH (CENTRE FOR RESEARCH AND TECHNOLOGY) and PSYCTOTHERM (G. LIGEROS & SIA OE) representatives, visited LVAT (LEHR- UND VERSUCHSANSTALT FÜR TIERZUCHT UND TIERHALTUNG GROß KREUTZ) – ATB (LEIBNIZ INSTITUT FUER AGRARTECHNIK UND BIOOEKONOMIE) in September, ILVO (INSTITUUT VOOR LANDBOUW-, VISSERIJ- EN VOEDINGSONDERZOEK) in October, and AGRICOLA GOLINELLI in December 2021.
Visit at ATB
Visit at ILVO

Visit at GOLINELLI
During the same period, MG Sustainable (MG SUSTAINABLE ENGINEERING AB) team also managed to visit the same pilot farms, providing further valuable insight into the integration of the PVT systems.

Integration of PVTs in LVAT – © LVAT
Integration of PVTs in ILVO – © ILVO

Integration of PVTs in GOLINELLI – © GOLINELLI
Besides the much-needed clarifications in technical level, it was also a great opportunity for the RES4LIVE partners to meet and get to know each other better after a long period of intensive teleconferences.
At the same time, preparatory works have started in all farms. In ILVO and LVAT, particular focus has been put on surveying the existing electromechanical infrastructure and updating the plans in order to be fully prepared with the first installations of environmental and power consumption sensors that have been purchased.
In GOLINELLI, the new weather station has been placed and soon the first measurement will be available. Prior to the insulation retrofit of the hog barn, the measurements of thermal transmittance of the building were completed. The next weeks, a thermal response test of the ground will give us further insight on the capabilities of the geothermal storage system that will be coupled with the PVTs and the heat pump.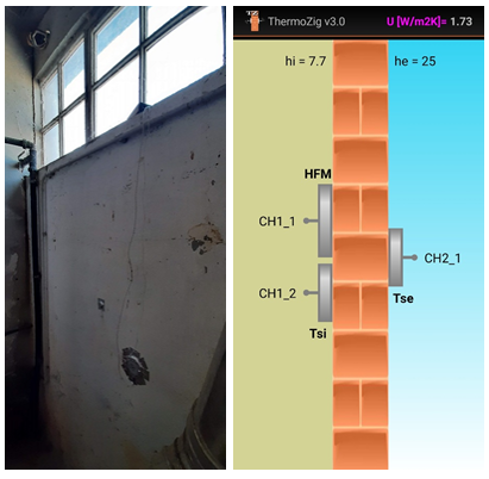 Weather Station & Thermal transmittance measurements – © GOLINELLI

Thermal response test of the ground – © GOLINELLI
In AUA's experimental poultry farm, the renovation works are almost complete. New roof and tiles were placed, and by early February the new LED lights for both stuff and the hosted animals will be functional. The air conditioning and ventilation channels are almost in place, and fans and the heat pump will soon follow. The 10kWp PVs and inverter are up and running, ready to fully cover the needs of the facility.
Roof renovation – © AUA
Installation of ventilation and air conditioning channels – © AUA
Inverter & PV panels – © AUA