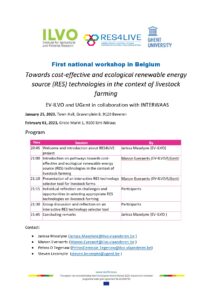 EV-ILVO and UGent, in collaboration with INTERWASS, have planned the 1st RES4LIVE national workshop in Belgium. The workshop "Towards cost-effective and ecological renewable energy source (RES) technologies in the context of livestock farming" will be organised in two sessions for livestock farmers to be held on the 25th January and 1st of February 2023.
The agendas will concern:
RES4LIVE project works introduction for local livestock farmers in Belgium. Besides, discussion on renewable energy sources (RES) technology selection in livestock farming. The economical, operational, and ecological impacts of RES implementation on a farm level will be discussed and promoted among the participants.
The interactive digital tool for informed RES technology selection in relation to livestock farming is updated after feedbacks on AgriFlanders Expo. The update work is successfully done by Manon Everaerts who is a PhD researcher jointly promoted by EV-ILVO and UGent. On the tool the farmers will have a chance to select various RES technology combinations appropriate for their farm. Then, it will interactively provide them an insight on the investment cost and the environmental impact of the selected RES technology or technologies.
Individual and group discussions among the participants will be held on the challenges and opportunities on selecting appropriate RES technologies with respect to livestock farming.
Besides, our running online survey to access the energy consumption and RES penetration at different livestock farms will be promoted.
The workshop participants will possibly be involved on the future more diverse workshops in relation to RES4LIVE and its outputs.
To see the agenda click here.
More information is available here.